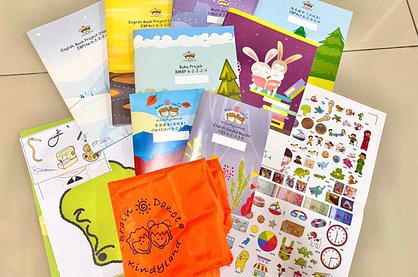 Interactive Activities

Story telling, phonics and comprehension session.
Holiday Program
Complimentary games and theme-oriented activities during school holidays.
Festive celebrations
Let children know more about festival in our country.
School-wide competition
Develop children's EQ, confidence and is a useful life skill both socially and professionally and we encourage growing such a valuable skill.
Mathematics
Teaching mathematics can be made entertaining, effective and multi-disciplinary if conducted in an interactive and engaging way. Introducing arithmetic and numeric understanding can benefit logical thinking and cognitive development as well as mathematics skills, and our program has years of innovative experimentation in making mathematics a fun and engaging experience.
Music
An innovative music program creates an environment where children happily enjoy songs while also learning simple music theory. Music is a powerful tool as its benefits go beyond developing hearing, with performing and understanding rhythm being experiences that can develop social and physical skills as well.
Music& Movements
Taught personally by a music and movement professional, music is an excellent way to develop one's bodily coordination and gross motor skills. The concepts explored of rhythm, movement and instrument performances are powerful tools with which children can build their self-confidence while regulating the body and mind.
Sensory development
Children are naturally curious and want to explore the world. Our wide-spectrum education program helps children to explore the world while developing self-recognition.
EQ
The most crucial stage in the shaping of a child's personality is before the age of 8. The Brain Dance curriculum, purposefully designed by qualified psychologists, is focused on simultaneously teaching the academic aspect of a child's development as well as the social aspects. Embedded within the curriculum are elements of personality and emotional intelligence education which has a proven track record of helping emotional as well as educational development.
Books
For your convenience, we send all printed materials and stickers to your home, so your child can complete their worksheets following the instructions in our zoom classes.
Language
Our unique English phonics, reading and writing lessons, coupled with Chinese and BM classes are famous for the way that they allow children to discover the interesting world of children's literature. A massive innovation over the traditional language learning frame, this stress-free program cultivates language talent among children in an engaging way that will develop lifelong reading and learning habits.
Online gameA daily exciting, tailor-made online game for your child to revise the topics learned on the day.
Homework check
Weekly 1 on
1 "homework check" online tuition session.
Art& craft
These 3D projects aim to train a child's spatial senses and stimulate creativity, fine motor skills and hand-eye coordination.
S.T.E.M
Utilising a globally accredited Science, Technology, Engineering and Mathematic course, each lesson starts with a hands-on experiment aimed at allowing children to explore technology through insightful and thought-provoking fun.