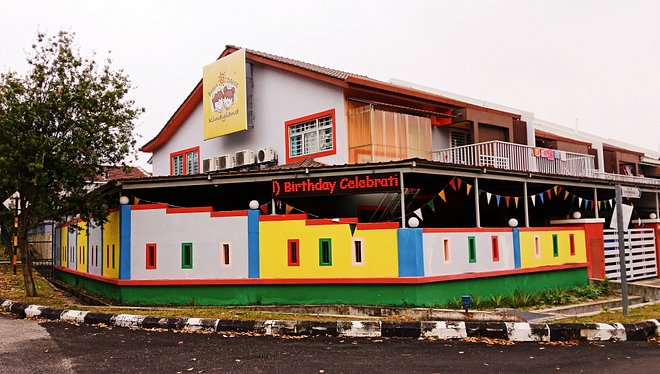 Activity-based teaching method
Our teaching looks visually unique, appealing and people are always intrigued. When parents see children book-learning, they tend to focus on location, aesthetics and class size - making it difficult to differentiate between the options. With our activity based method, seeing their children guided through an exploration of concepts, through the senses and community building, parents see something more than the facade, they see something tangible and real, something they want for their children, something that the child would come home to talk and smile about.
Run an educational business in a RISK FREE WAY
Our Professional Custom Lessons
Without a doubt, our strongest assets are our special designed lessons. Our lesson planing is professional, structured, unique and time-tested. Extraordinary effort goes into their psychologist designed lessons, aim in developing children's academic progress as well as personalities, years of experience, we are willing to share to make your business a success
Our Distinctive Events
The events that get people talking are our spectacular concerts, festive celebration and mufti days. Not only do they look fun, exciting and inviting, they also provide valuable social experiences and introduce our students to different cultures.
Our Annual Concert Support
Our annual concerts introduce memories parents will be able to tease their children about for years and reinforce the children's sense of self and confidence by performing in front of hundreds. These events can be very complicated, from the planning of the venue to any potential mishaps with costumes, technology and story-telling. We can help you plan and create your own take to these remarkable events.
By joining us, you can expect professional advice, quality high-level training, name recognition, and advice from professionals doing exactly what you will be doing should you license this program.
Material buying tips :
We will do the backbreaking research on supplying your materials without compromising quality.
Logo-printed school supplies such as exercising books, photo albums, progress report, envelops and files help to increase your corporate image; but normally requires purchasing in bulk. Getting them from the HQ can help you to lower the investment and eliminate stock keeping.
Already have an entire education system foundation :
The effort involved in building a kindergarten from scratch is significant. When we founded Brain Dance we had to make our own books, create our own activities and then educate our parents on why our system is ideal for their children, then after all of that you still have to teach! We've built a foundation for you.
We have been through many scenarios in our 20 years and we can help you overcome many issues you may have starting up.
Our licensing program has a long track record of success. We have also been in the education business for a long time, and know exactly where and when to spend and save. We can help you avoid mistakes that we've made in the past and offer suggestions that we've found that work.
With our licensing program, you can expect :
A proven track record of success; having been in the education stream for over 10 years and still growing, we can safely say that our license and expertise has appeal to parents and licensees alike.
Develop the new generation
There is a sense of fulfillment knowing that you are preparing and nurturing the children

who will be

shaping the world for a better tomorrow.
A child's smile
There are few things more endearing than a child's smile, and in this line of work it is a marvel we see every day.

Working with kids is both rewarding and a gratifying experience.
Revenue streams in childhood education can be varied and numerous
Not only are there initial tuition fees, but when offering extra benefits to the children such as additional courses, after school activities, daycare and tuition, the enterprising licensee can greatly expand on their potential income.
The programme focuses on three important concepts:
Stable income stream
An extremely stable income stream that is less affected by economic turbulence. Many families may decide to tighten their belts during tough times, but few will pull their kids out of school when cutting other expenses is an option.
The Brain Dance education system began in 2008 founded by Dr. Connie Wan, a cognitive psychologist and her teaching team. Winning multiple international awards, the Brain Dance system stands out with its, play-based, tried and tested interactive of teaching method.
Others
(Empathy / Social Skills / etc)
The World
(General Knowledge)
Increasing birth rates
The birth rate for Malaysia was between 16.4 to 16.9 per 1000 people in the past 5 years.
Philosophy of Our Education System
Your Passion, Our Mission.
Our aim is to provide a progressive, attentive and caring environment where our kindergartens remain a love of knowledge, a desire to learn and a passionate curiosity. Children in Brain Dance not only learn their academic subjects, but also develop their personalities, such as thinking and problem solving skills, social and interpersonal skills, self-management and confidence.
The Brain Dance unique language programme is something you can't find anywhere else as well. Starting with phonetic awareness, the programme adds in sight words, synthetic and analytical phonetic skills bit by bit through interesting stories, games and a unique systematic guided reading series. Children can read most story books confidently by the time of their kindergarten graduation.
While our cross-curriculum and interactive lessons allow children to absorb information through various pathways, resulting in learning that is faster and more integrated than traditional learning methods.
Education is a neccessity
Education is correctly seen as a necessity and not a luxury. Parents are more willing to invest in a good education for their children than ever before.
Rising education expenditure
In 2017, Malaysian parents spend on average; RM109,470 (USD 25,479) on their children's education, and the average increase income spent on education has risen every year for the last 10 years.
Rise of working women
As the economy grows and women enter the workforce, the demand for daycare is now higher than ever.